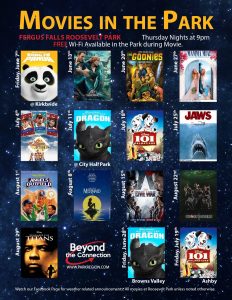 We would like to invite you to join us for a movie under the stars. This summer we will be sponsoring thirteen different movies on fifteen separate evenings in three local communities!
On average, 200 people gather on Thursday evenings in Roosevelt Park in Fergus Falls to watch a movie on our inflatable 9'x16' screen. Fresh popped popcorn is available, adding big flavor to the evening. For those of you who like to multitask, free wireless internet is available at Roosevelt Park during the movie.
Live music sponsored by A Center for the Arts starts at 6:30pm. A food vendor is also available for your convenience. Movie starts at 9pm.
We will be showing movies in Fergus Falls, Browns Valley and Ashby.
We hope to see you and your family this summer at Movies in the Park. Come out and enjoy the show!
Date                                   Movie                        Location
Friday, June 7th                   Kung Fu Panda                        Kirkbride
Thursday, June 13th           Jurassic World                          Fergus Falls Roosevelt Park
Thursday, June 20th          The Goonies                              Fergus Falls Roosevelt Park
Thursday, June 27th          Mamma Mia!                              Fergus Falls Roosevelt Park
Friday, June 28th               How to Train Your Dragon         Browns Valley
Thursday, July 4th             A League of Their Own              Fergus Falls Roosevelt Park
Thursday, July 11th           How to Train Your Dragon          City Hall Park
Thursday, July 18th           101 Dalmatians                          Fergus Falls Roosevelt Park
Friday, July 19th                101 Dalmatians                          Ashby
Thursday, July 15th           Jaws                                           Fergus Falls Roosevelt Park
Thursday, August 1st        Angels in the Outfield                 Fergus Falls Roosevelt Park
Thursday, August 8th        The Little Mermaid.                    Fergus Falls Roosevelt Park
Thursday, August 15th      Captain America: Civil War        Fergus Falls Roosevelt Park
Thursday, August 22nd     Ghostbusters                             Fergus Falls Roosevelt Park
Thursday, August 29th      Remember the Titans                Fergus Falls Roosevelt Park